THE DIAGRAMS BOOK

The Diagrams Book has sold over 20,000 copies, and is a regular in the WHSmith Top 5. It has since done the same in Germany and Korea, and been re-issued in the UK in a new workbook format that matches The Ideas Book as a pair.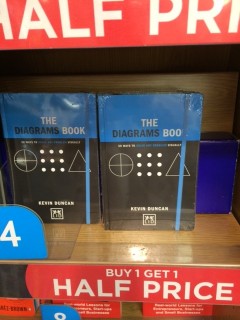 It has been translated into Korean, German, Spanish, Japanese and Complex Chinese (Taiwan).
Other editions on the way include Chinese (simple), Thai, Russian, Portuguese, Hungarian, and Swedish, with more versions in the offing for the USA and India.
Kevin's "How to do X with Diagrams" series of speeches and training have already been experienced by over 500 people, and the word is spreading with a number of requests now coming in to speak overseas. Satisfied customers already include Discovery Channel, Motorola, The Guardian, EE, Strutt & Parker, Royal Mail, Maxus, Mindshare, Carat, and JWT.
Kevin introduces the concept
BOOK REVIEW. Analysis of how the book can help.
THE DIAGRAMS BOOK. Quick format preview of what's inside.